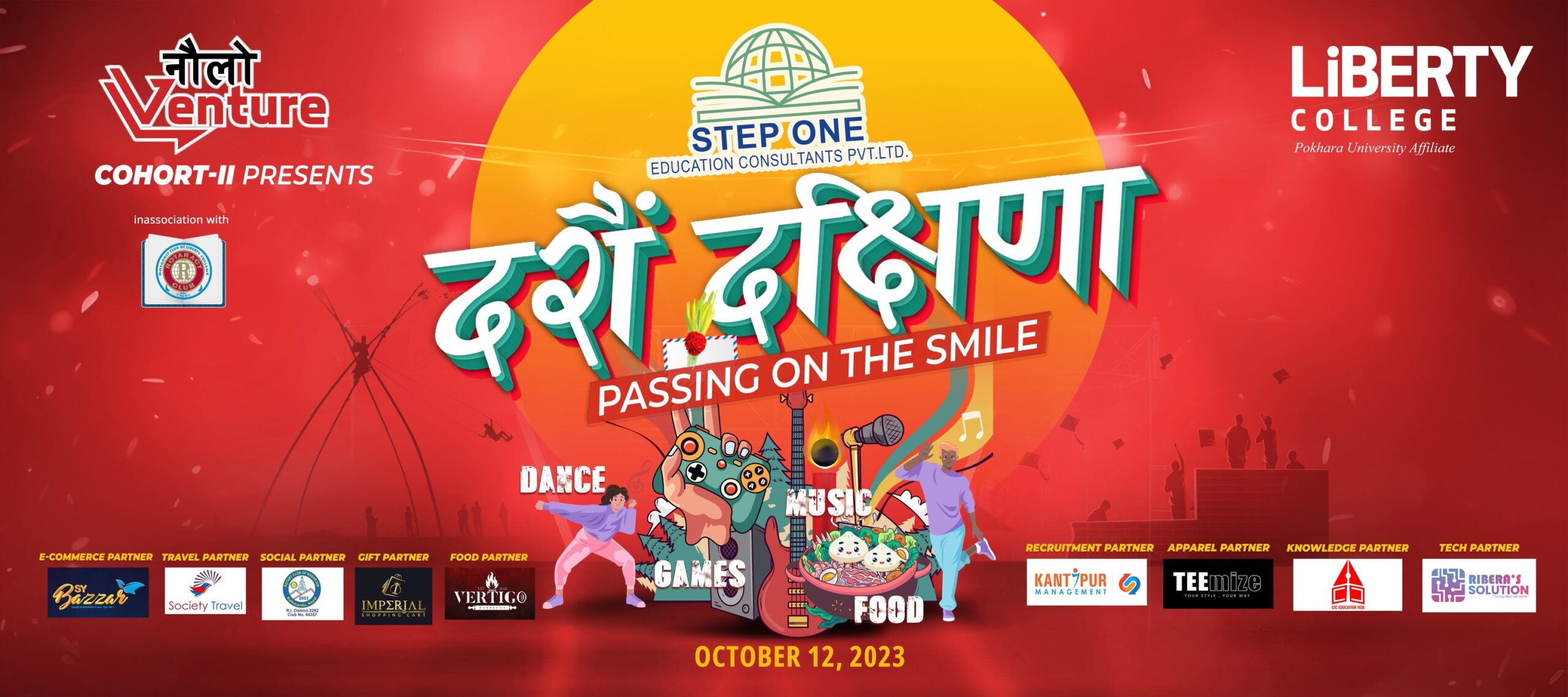 Naulo Venture, a dynamic initiative led by Liberty College students, is dedicated to making a meaningful impact on the lives of those in need. With unwavering dedication to their community, Naulo Venture proudly organized the Cohort II : "दशैं दक्षिणा - Passing on the Smile." This remarkable gathering was not just an event but a celebration of unity, entertainment, and above all, giving back to society.
Event Highlights: "दशैं दक्षिणा - Passing on the Smile" was a spectacular event that aimed to bring joy and support to the less fortunate and those in need. This uplifting event featured an array of activities and services designed to spread happiness and positivity.
Live Entertainment: Naulo Venture pulled out all the stops to ensure a truly entertaining experience for the attendees. The event featured professional singers, musical bands, and mesmerizing dance performances, creating a vibrant and unforgettable atmosphere.
Professional Singer: A talented and renowned singer graced the event with melodious tunes that struck a chord with the audience, filling the air with sweet melodies and heartwarming songs.
Musical Bands: A lineup of musical bands added excitement and energy to the event. Their captivating performances had the audience on their feet, dancing and singing along to the beat.
Dazzling Dance Performances: The event witnessed breathtaking dance performances by skilled dancers who brought an energetic and spirited vibe, leaving the audience captivated and uplifted.
Service Provider Stalls: Attendees had access to various service provider stalls offering vital assistance and information. These stalls included travel, e-commerce, educational opportunities, and more, serving as valuable resources for those in need.
Food Delights: The event's food stalls catered to diverse tastes, offering an array of culinary delights. From traditional, locally inspired dishes to international cuisines, the food stalls provided a gastronomic journey for all to savor.
A Celebration of Compassion: "दशैं दक्षिणा - Passing on the Smile" was more than just a gathering of people; it was a celebration of compassion and the power of unity. Naulo Venture, along with Liberty College students and attendees, came together to make a real difference in the lives of those who needed it most. This event served as a testament to what can be achieved when a community unites for a common cause.